Treating people how I would want to be treated is very important to me. It is my goal to provide excellent care and continual compassion to my patients, because I believe that everybody deserves to be proud of their smile. I enjoy building relationships with patients of all ages and helping them achieve health and confidence through orthodontic care.
I feel fortunate to work with so many wonderful people every day, from my incredibly dedicated and outgoing team of assistants and office staff, to the patients who share their time and their smiles. Being an orthodontist has given me more fulfillment and satisfaction than I ever thought possible.
Education and Continuing Education
I began my formal education at Ohio University, where I earned a Bachelor of Science in biology. Following graduation, I entered The Ohio State University College of Dentistry, and obtained my Doctorate of Dental Surgery. Then I attended Saint Louis University and completed a 30-month residency program to obtain my Master of Science in orthodontics.
Continuing education is a must in order to stay on top of the orthodontic field. I strive to keep current with all new advances in my profession by attending courses all around the country and participating in study groups with colleagues at the local level.
Professional Affiliations/Recognition
American Association of Orthodontists
Great Lakes Association of Orthodontists
American Dental Association
Ohio Dental Association
Cincinnati Dental Society
Orthodontic Education and Research Foundation of Saint Louis University
Keely Dental Society
Greater Cincinnati Dental Study Club
"Top Orthodontist" Cincinnati Magazine
"Top Orthodontist" Best of West Chester
Outside the Office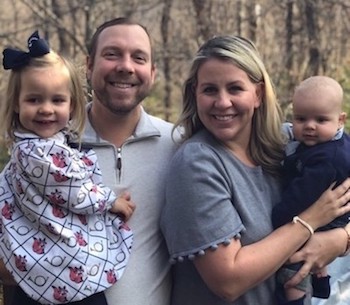 Originally from Mansfield, I currently reside in Cincinnati where I enjoy playing golf, jogging, cooking, attending sporting events, and spending time with my wife Julie and our two children Clara and Jacob. I donate my time to a number of dental programs to provide treatments to those who cannot afford basic dental care.